WHAT IS EXTERNAL EVALUATION?
External evaluation is an independent form of evaluation of an institution or programme by individuals external to the organisation. The evaluation process considers the quality of different aspects of the institution or programme against established criteria and standards. It requires appointment of qualified, trained and experienced higher education practitioners and other practitioners who provide independent judgement, operate with a high degree of integrity and can add value to assessing and recommending measures for improvement of an institution or programme.
ROLE OF EXTERNAL EVALUATION
External evaluation takes place to provide an accreditation agency with the advice needed to make meaningful, reliable and objective determination of whether or not an institution's or programme's quality meets the required standards, such that the institution may be capable of being registered or accredited or its programmes approved for delivery. The Accreditation Council of Trinidad and Tobago (ACTT) relies upon external evaluators to support its decision-making processes with respect to conferment of institutional title, initial and continuing registration, programme approval, institutional accreditation, or recognition of transnational programmes.
WHO ARE EXTERNAL EVALUATORS?
External evaluators (EEs) are qualified, trained and experienced subject matter and higher education experts/practitioners who are selected and appointed by the accreditation agency. Typically, two to five EEs are appointed depending upon the complexity of the evaluation exercise. EEs are required to treat with an institution's data, materials and information they come into contact with by applying high levels of confidentiality, and declare any conflicts of interest with the institution. Accordingly, integrity is the fundamental principle governing an individual's conduct as an evaluator in his/her dealings with the accreditation agency, the institution and its personnel. EEs provide independent judgement and have limited contact with the institution during the evaluation process. They assess and make recommendations for improvement of an institution or programme.
RECRUITMENT OF EXTERNAL EVALUATORS
The Accreditation Council of Trinidad and Tobago (ACTT) is dedicated to the advancement and enhancement of post-secondary and tertiary education and training. We apply a peer-review methodology in quality assuring the sector and, as such, require independent Peer Evaluators. These professionals maintain the integrity of the process and ensure that ACTT's standards are upheld. Click here for more information.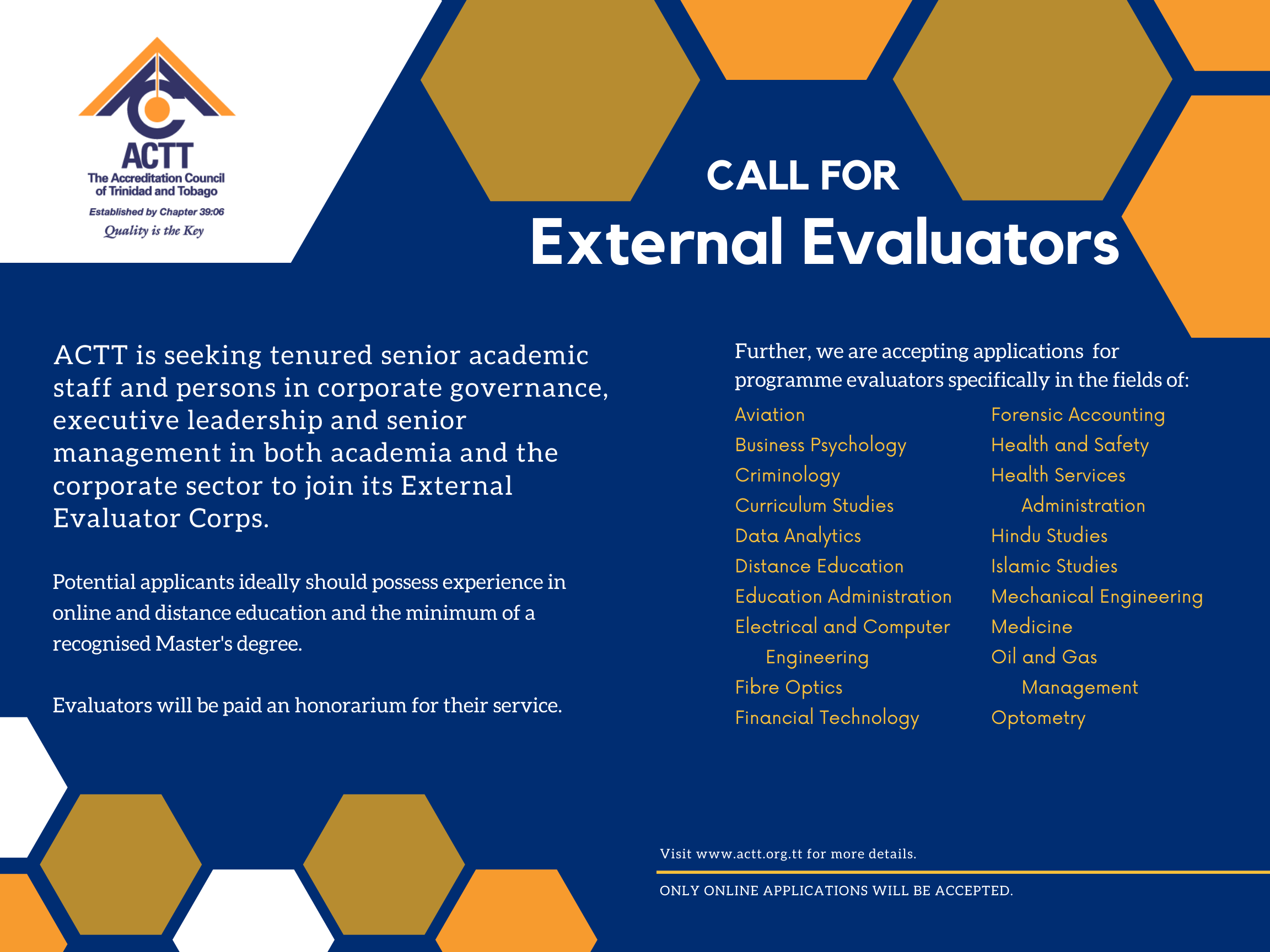 Download Code of Practice for ACTT's External Evaluators